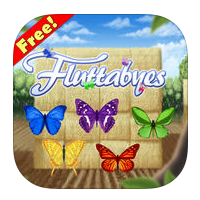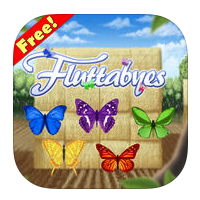 Just imagine you you're passing by the river side and suddenly you find that two people are drowning in the river. Without wasting a moment, you dive in and swam across to reach them as quickly as possible. Then you grab hands of both and swim them to the river bank. They're unconscious but after a few attempts, they finally get back to their senses. How peaceful and satisfying is that feeling? The feeling of saving someone or rescuing someone when he's stuck in a problem is invaluable. But you don't always just go and look out for such opportunities; they just happen to come to you. Moreover, if you fail, the burden is equally heavy. But now you get to do the honor to rescue butterflies just any time you want. What's even better is if you fail to do so, you won't have to feel remorse for it because it's a game after all!
I'm talking about the latest iOS app called Fluttabyes that has been developed by Red Chain Games. The app is compatible with iPhone, iPod touch and iPad and requires iOS 6.1 or any later version of the OS. This app has also been optimized for iPhone 5, iPhone 6 and iPhone 6 Plus.

Fluttabyes is a Match-3 game where you have to match four or more same-colored butterflies and rescue them so. The game continues in the same fashion as long as you're able to continue your winning streak. Obviously, there are special benefits if you achieve that feat quicker or if you can match more than four butterflies at the same time. For example, matching more than 6 butterflies will get you a ladybird and taking that number beyond 9 will earn you the magical rainbow butterfly.
But that's not all! There are far more twists than I've just explained. In this free version of Fluttabyes, you can only play in SURVIVAL mode and there is a 60 second time limit. There are a number of different gaming modes such as Endless, Solitaire, Drop, etc in the paid version of the same game. While Endless is the only mode where you can take your time, practice hard and work on your skills, the other modes are all made to test your acquired skills. While some may test your strength under pressure situations when time's running out, others get you so busy working out different combinations that you'd forget that the game is already over.
[huge_it_slider id="40″]
When there are butterflies, it's certainly going to be beautiful. So Fluttabyes uses lots of vivid combinations of colors and glare and present you a gift that would surprise you every time you open it. So this is a good treat for children and adults as well who'd like to test their measure of aptitude.
The app is overall a great package. If you log in to the GameCenter, then you can also compete with other players around the world for the number 1 rank.