These days, Internet of Things may be a very hot topic, but it is not a new concept. Kevin Ashton was laying the base in early 2000 for what would become the loT at MIT's AutoID lab.
He was the pioneer, who imagined this idea while searching for different ways that Proctor & Gamble could enhance its business by linking RFID information to the Internet. However, it is also true that the concept was extremely simple, but powerful too.
If all the objects in day-to-day life were equipped with identifies and wireless connectivity, such objects could be communicated with one another and managed by computers. But if it is considered in the today's world, Internet of Things is an integrated part of Future Internet.
Moreover, it is defined as a dynamic global network infrastructure with self-configuring capabilities based on standard and inter-operable communication protocols, where physical and virtual things have individuality, virtual personalities, use intelligent interfaces and seamlessly integrated into the information network.
In addition to, IoT is not only set to improve all aspects of lives, but it is expected to transform and save them. It is more than a machine to machine communication, as an IoT app development is on cloud computing and networks of data-gathering sensors.
Gradually, things are expecting to become active participants in business, social processes and information, where they are allowed to interact with one another and environment by exchanging data and information that sensed about the environment.
Do You Know That What The Internet of Things Can Do For You?
There are some of the future consumer apps that envisioned for IoT sound like science fiction, but some sensible and realistic possibilities for the technology comprise:
Getting constant warnings on your phone or wearable device when IoT networks notice some physical danger nearby
Automatic Ordering of groceries and other home supplies
Self-parking Automobiles
Automatic tracking of exercise habits and other daily activities like progress reports, goal tracking and more.
Major Advantages of IoT in the business world include:
Today, Internet of Things has impacted a lot in every business. It is expected that mobile and IoT will change the kinds of devices, which connect into the company's systems. The devices that connected newly can produce new types of data.
Moreover, it will help businesses to gain efficiency, harness intelligence from equipment, enhance operations and boost customer satisfaction. It also has a deep impact on people's lives as it enhances public safety, healthcare improvement and transforms transportation with better information and instant communication of information.
In short, IoT can impact society and business in many ways, and there are at least three main advantages of IoT that will impact every business, including communication, cost savings and control.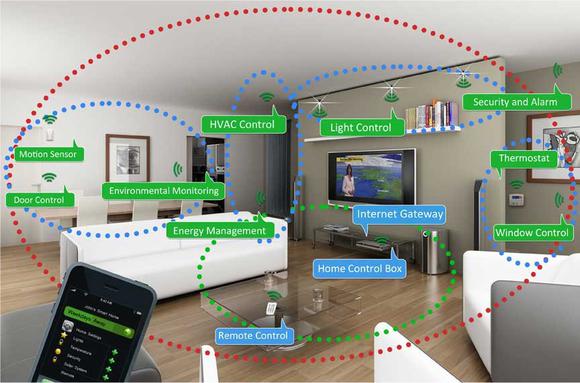 The Internet of Things & Network Devices
Do you know that all types of household gadgets can be improved to work in an IoT system? Motion sensors, Wi-Fi network adapters, microphones and other instrumentation can be embedded in these devices to allow them for work in the IoT.
However, lots of home automation systems have implemented primitive versions of this concept for devices like wireless scales and wireless blood pressure monitors, which show examples of IoT gadgets.
In addition to, a lot of wearable computing devices like watches and glasses are also envisioned to be key components in future of IoT systems. Other wireless communication protocols like Wi-Fi and Bluetooth expand to the Internet of Things as well.
So you got the Internet of Things is not only a modern concept that can be enjoyed by only geeks and tech-savvy companies. It is one such exhilarating technology in which things become instrument inter-connected and effective, with the power to change the lives of people.
Author Bio:
Shahid Abbasi is a marketing consultant with Peerbits, a one-stop iPhone app development company and the home of app enthusiasts. Shahid likes to be busy with his team, to provide top-notch mobility solutions to enterprises and start-ups.