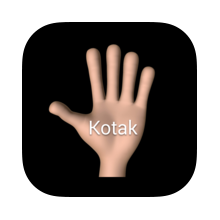 Have you ever wanted to just slap someone silly because they said or did something that made you angry or upset?
Well now you can, using Kotak, the app that slaps.
Kotak is an app that is available for Iphones and Ipads so you can send virtual slaps, punches and even farts to your friends – and especially your enemies – without running the risk of an assault charge or a fist to fist fight. For only ninety- nine cents you can have the power of a slap or a punch at your fingertips, with none of the consequences of an actual punch or slap.
Aside from virtually punching your enemies, you can also send play punches and slaps to your family and friends.
It doesn't just stop at animations either, these virtual slaps and punches sound almost exactly like the real thing . The animation is funny and there are a variety of choices as to what you can have your slap or punch look like. When it comes to the farts, you can send 3D characters with animated farts, so you can be vulgar from afar, but still let those that you love know you are thinking about them.
This app is a really good way to express yourself and for the first time ever you can send emojis with sounds AND animation which will help you to add to the dramatic effect you are hoping to achieve. There's nothing better than being able to say through a text " I would slap you right now if I could" and then having it followed by a big animated slap or punch with realistic sounds.
I will be honest here, when I first read about this app, I totally thought it was kind of stupid. I mean who wants to send farts, slaps and punches to people, it's pointless. Then I purchased and downloaded the app and let me just say that it is so much fun when you are sitting in a room with a friend and send them what they think is just a normal text, and when they open it up it lets out a big nasty flatulence sound. There is really nothing more priceless when it comes to sending vulgar humor via SMS.
As I mentioned above, this app doesn't just let you spread around vulgar farts like wildfire and throw punches and slaps from afar, you can also send them along with texts, so you can properly convey your meaning if normal text just doesn't cut it – haha, get it? Cut it.. –
Unlike other apps that allow you to send emoticons and emojis, this one is much more playful and much more interactive, with playful and hilarious sounds that will have you and your friends absolutely roaring with laughter.
For those with a good sense of humor, this app would make a great purchase, it brings an odd light to the lives of others through farts , flying fists and slaps. For only ninety- nine cents, you can have all the comedy and hilarity that you will ever need.