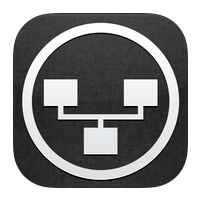 Nowadays, when you're connected to a local network on internet, most of the times you are not the sole user to do so. There are multiple users on different devices connected to the same host. You want to know about them? Many times we have multiple networks available but most of them are secured. But in the long list, there are a few open networks that you might miss. Wouldn't it be better if you could filter them all? There are so many such impatient questions waiting inside us to pop out any moment that right answerable mind comes across. But now they'll all be answered with a live demonstration; thanks to iNet Pro!
I'm talking about the latest iOS app called iNet Pro that has been developed by BananaGlue GmbH. The app is compatible with iPhone, iPod touch and iPad and requires iOS 7.0 or any later version of the OS. This app has also been optimized for iPhone 5.
With iNet Pro, you're armed with all the necessary tools that you require before connecting to a network. Now, you're familiar with every other user of that network; their IPs, system model numbers, etc. All you have to do is just scan the network and a well-compiled list comes your way. Even the Macs and Windows PCs are labelled with different icons.
[huge_it_slider id="33″]
Though the above information might be more for the curious souls out there with little practical usability, the ping tool allows you to find out whether a certain host is within your reach or not. You can further automate the ping process by defining the number of times you want to ping, when you'll timeout, etc. If a certain host is available, you may add it to your favourites for quick access any time later. Similarly, you can search for open ports via Portscan and mark your favourites. Just enter the IP address or domain name of the computer or you can set a port range to scan.
Bounjour browser, known for its zero-configuration networking, is also a part of iNet Pro. So now you can easily and automatically connect to multiple devices and services including iTunes Home Sharing. This advanced tool is sure to excite all the techies out there.
Wake on Lan is one of the best features that's been planned and executed, both very well. You can search out for all the devices available on LAN either automatically or manually. Then after you're done with the set up, you can connect to any device and "wake it up" with just a tap. You can also put a device to sleep or shut it down. But this feature is exclusive for Mac OS X devices only.
Overall, iNet Pro is a must have app for all network users. The app is available for $7.99 in the App Store. But in case you want to try out some limited features like Network Scan only, then you may try the free version first.
Pros: network scanner; Bonjour Browser; WOL; Portscan; Ping; free version available.
Cons: none.