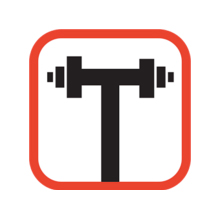 FitTime Stats application is an application which allows people to stay fit and healthy with its ultimate strategy. It will give you a reminder every short interval of time every day. This reminder is to remind you to exercise for staying fit. This app is really simple and ultimate one if you want to stay fit. There is no need to join any gym. It is a perfect replacement of any gym.
The FitTime stats app includes a page of your exercise statistics. It shows the exercise stats which is a proof of your hard work. You can share and show the stats to friends and family and can compete with them.
There is no need of equipment or any tool. All exercises are simple and you can do them anywhere through this app. You can set the alerts for any time interval as you need, whether it is every half hour, one hour or two hours. The activity length can be from 15 seconds to two minutes and the difficulty level can be selected at any level from the three levels. You can choose any time of day for the alerts start and stop.
This app will simply alert you with a small notification and you can start your small interval activity at any time of day. You will feel much better and refresh after using and following the app. It will improve your sleep, metabolism, blood pressure and attitude. Your whole life will be changed and become better. This app will not make you sweat in a gym and there is no need to plan for a big thing for exercise. You just have to follow our simple strategy for staying fit.
Use FitTime Stats app for a better tomorrow and a better life.
[huge_it_slider id="90″]
With this app, there is no need of joining any expensive gyms and no need of travel or make time for workout schedule. There is no need of a non-stop exercise to be healthy as in gyms. A short interval follow-up will gradually improve your health. Just follow the simple guide of this app and you will be free from the daunting tasks of the gyms
Features:
Scheduling your alerts- You can easily customize your exercises- There are three main difficulty levels. Choose according to your efficiency- No need of any gym- Short effective workouts- Organized and well managed exercises
Pros: – Simple to use and no need of any daunting task as in gyms- Excellent graphics- Statistics showing the bar-graph of your hard work- Save your time consumed in gyms- Available virtually anywhere you go- There is no need of registration in this app as generally most apps demands- Minimum app permissions are used in this app
Cons:- Not available with below 4.1 android versions. Requires 4.1 and up versions of android
So, what are you waiting for? Download it now and start living healthier, stay fit and feel the change with this remarkable app. It will not save any of your phone information. It just wants your location for the advertisements and your current phone status at that time.