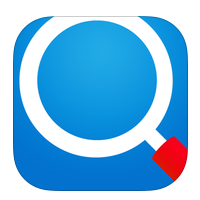 Have you ever tried search engine options other than the one set by default on your browser? Actually have ever tried another browser that the famous ones like Opera, Chrome, Firefox etc on your smartphone? "Smart Search & Web Browser" is an browser app that offers numerous functionalities that are not available in other browsers. It is developed by
Reactive Phone
. Smart Search & Web Browser app is very light-weight and amazingly fast. You will find the usefulness of the Smart Search & Web Browser app, once you open it.
The home page of the Smart Search & Web Browser app contains a title bar with your last selected search engine. You can touch the name of the search engine to get additional options. You will no. of options like Bing, Yahoo!, YouTube, Images, Facebook, Wikipedia etc. Then there is a search box. Just input few keys and you will get suggestions. Then you can select one of the suggestions to load. The input text is submitted to the search engine you have selected and the browser displays the result page.
Next one is the quick launch bar. There are no. of options provided by default. You can even add more items to the list. You can swipe the pages to find the recently added ones. Also you can swipe right to find the list of recently searched items. If you need to search an item again, you do not need to type it again at all. Just select from the list.
Once you open a page in Smart Search & Web Browser app, it moved to a tab. You can have no. of tabs here. Just select the tabs button to navigate between tabs. You can bookmark your favorite page, and that pages will be available in Reading list. Select the Menu item at the bottom to do things like adding the current page to Speed Dial, Reading list or to copy to clipboard. You can even share the page to no. of apps available in your smartphone. One important feature the Smart Search & Web Browser offers is the display mode. You can the mobile view mode or the desktop mode (The feature should be supported by the web server also). If you are using a small device or like to read story, you can use the full screen feature. This gets us more real estate space to use.
[huge_it_slider id="52″]
The Smart Search & Web Browser app also contains built-in widgets like weather, latest news, Inspirational quotes, App of the week, Hot topic for the day, which you will find useful you need something to kill time.