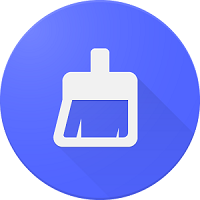 Power clean, a powerful tool with clean interface and weighs just under two megabytes, does wonders to your Android device. We are talking about a clean app that is, unlike its main competition app, very light weight. It does not takes up all your device's resources for granted. It has a clean interface, and everything in organized into sub screens. Power Clean from Lionmobi is very easy to use. It is designed to help you remove junks left by apps on your device from your device storage. If you have not used any cleaner apps before, you will be amazed to see how much junk occupied your device and once you cleaned it, your storage will get the additional space to use. Kindly note that junk size also includes apps currently running apps memory size on your device too, but they are safer to remove.
Once the Power Clean app is started, it will show 3 values in circles using a neat interface along with four menus. Clicking those value or menus takes us to the corresponding tasks. Clicking on RAM values, takes to "Memory Boost" screen. It is used to clean the currently running apps. This cleaning method used in situations like battery down or before playing high graphics game, as such games require all available memory for a smooth game-play. Click "Boost xxxKB" in the lower end of the screen and find how many RAM recovered in the process.
Selecting the CPU value circle will get information about current temperature of the CPU and Battery along with information about your device. You can select those values or select menus to optimize the current usage. You can even run benchmark tests on your internal & removable storage devices. You can also see various sensors available or unavailable with your device.
Selecting the storage value or "Junk Clean" menu would take to you the screen, which calculates the junk files that can be safely cleaned. Those junk means 1, Cache of system and browsers, 2, Individual apps junks, 3, Residual junk files, 4, Obsolete APKs files, 5, AD cache & empty folders etc.
Last not least, "App manager" is a nice feature, which comes handy in many situations. It contains four important sub-tasks of the Power Clean app. First one is the uninstall. You may wonder why you require this in first place. Beauty of this facility having here is, it supports mass uninstall. Just select the apps not required and uninstall it. Second menu lists the APK files stored on your device main storage. It may be taken by backup app. So restoring is just easy by selecting the APK.
Third one is an important feature of the Power Clean app. The "AppLock" feature get you to lock important apps like WhatsApp, Facebook etc with a locking pattern similar to Android. Beauty here is, it locks the selected app only, so the you do not need to unlock the phone with the pattern. Handy, right. Last feature is the "Move" option, where you can move supported apps to SD card to free up main storage. Games usually designed to reside in SD Card, so they can be mass moved.