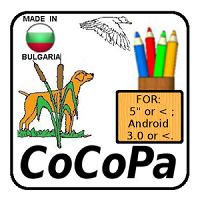 CoCoPa – Constructor C Pages is one-of-its kind app available in Google Play Store. Now-a-days you worried about your kids who spend lot of hours on mobile apps and games. Even though some of those apps and games are creative, they are repetitive and strains the eyes. By constantly looking at the mobile, kids might become short-sighted. And nothing on doing on mobile matches the experience of doing in real. CoCoPa app not only lets you or your child insert objects on the app, but lets you print it out and color it in real time. Say your are busy on phone due to some urgent on call with an important client. So what could you do to sit your kids at one place? Just insert some thing on this CoCoPa app, take print outs and keep the kids busy.
CoCoPa – Constructor C Pages app is developed by Petrov Petar Velichkov, a developer from Bulgaria. The app name itself an abbreviation of COnstructor COloring PAges. It is easy name to remember and share with friends or colleagues, when they worry about their kids. The CoCoPa – Constructor C Pages app gets better on Tablets, because of the more real estate space. But that does not means any lesser on smartphones. The CoCoPa app is supported from 3.0 or later versions of Android. Support of Android version 3.0 means, suddenly you could find your unused, non-saleable tablet is useful now.
The CoCoPa app contains about 269 different objects. And from that list, you can choose objects to draw on the page. We said objects, means you have put multiple objects in the same page. These objects belong to different categories like trees, shrubs, animals, rocks, birds, digits etc. These objects are carefully and creatively selected to impress children. When you insert multiple objects, you can use your creativity for aligning the objects. That way it becomes an wonderful and complete picture. You can also save your drawing as images. This helps you retrieve it for later printing. Just select the gallery button for images you saved earlier.
[huge_it_slider id="49″]
You can also send those images via multiple sharing options provided by Android system. If you are interested and have time, you can even develop a math book for kids using this CoCoPa app. Just see our CoCoPa app screenshot gallery to get idea about the simple math pages.