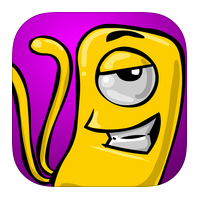 We have all spent our childhood fighting against the bad men and monsters- be it in real life or in gaming. A lot of us might have found the monsters in games very cute and adorable. They were designed that way so that they do not scare us beyond the scope of the game. There might have also been times when we found the monsters to be so cute that we might have taken their side. After all, every monster has a good side too. If you find monsters fascinating, you must try out the iOS app 'Bumbous: Discover New Different Monster Species'.
Bumbous is an iOS app that takes you into the world of the monsters. It helps you discover them and also create your own monsters. It helps you develop a whole new outlook to the games that you have been playing for a long time now. The Bumbous are creatures that live in unknown islands, each of which are unique. They are hilarious, peculiar- looking and very different from any you would have seen before.
The thing about the Bumbous is that they like create more Bumbous. It's like a mix and match game that results in new and exciting creatures each time. As a player, your task is to help the Bumbous in the creation of new and varied species each time. The only limit to what you can create is your imagination alone. There are an unlimited number and kind of monsters that you can make and enjoy with.
Once you have begun creating the Bumbous, they will keep you engaged for hours on end. It is a fun game that comes with a huge variety of challenges. You get to shape the homes of new creatures. You have complete power over them as you are the creator. It is your duty to help them complete this adventure.
There are over 300 different Bumbous species to be discovered and explored. The world of the Bumbous must be decorated as per their requirements and needs. There are so many missions waiting to be completed. Each mission completion earns you a lot of rewards and more. Your goal is to earn all the rewards and know all the islands so as to discover all the different Bumbous characters.
[huge_it_slider id="92″]
The graphics quality of the app is simply splendid. This, when viewed on the Retina display of your iOS device, can be a stunning view. The monsters are so full of colors and varied in shapes that your child will begin to appreciate them and adore them. The animations have been done very neatly indeed. The background sounds add a unique touch to the whole game.
Bumbous: Discover New Different Monster Species is available for free download on the App Store at present. It requires iOS 6.1.3 or later versions and is compatible with the iPad, iPod Touch and iPhone. It is a fun game that your child is sure to enjoy and stay engaged with for hours on end.