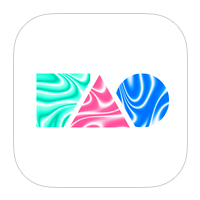 Ultrapop is a free photo editing app that you download from the App Store. This clever app allows you to add filters, shapes and colors to your personal photographs and images. Once you open the app you give permission for it to access your photo library and all of your photographs appear on screen. This is where the fun starts. Using a photo from the library (or taking a photo, this will be discussed later) you are then able to 'edit' it. You simply choose a photo by touching the screen and then a bottom menu appears with two options. One is to choose the included Ultrapop filters and the other is a box that allows you to buy more options.
When you touch the Ultrapop box, various options that are available will appear on screen. The first option is the ability to gradually add colour intensity, so you can have a dramatic pop art visual image or a slightly more subtle version of this.
Then there are various boxes for you to click on that contain different filters. One such filter is 'Atomic' that transforms the image gradually into a negative image, again with varying intensity. In contrast to this is the filter, 'October'. This filter is extremely subtle and gives a soft focus to the photo. There are a total of 8 filters to choose from, but there is an option to get more by touching the 'get more' box.
Another editing option on the screen is that of adding shapes. The three shapes include square, circle and triangle. These filters put the chosen shape onto the center of the screen with the further option of gradually making it opaque or transparent.
[huge_it_slider id="47″]
Once you are happy with your edited photo you then simply touch the 'tick' icon and the image can be saved and shared via various apps and social media, as well as being saved to your phone. If you are not happy with the final edit you simply touch the 'x' icon and start again.
From the home screen you can also choose a camera option that allows you to use a self timer option in order to take that perfect selfie, as well as the ability to take photographs. Then just like the photo gallery option, you have the choice of filters and effects.
This Ultrapop iPhone free app allows you to edit your photos into works of art. It is easy to use and fairly self explanatory. Have a go yourself.