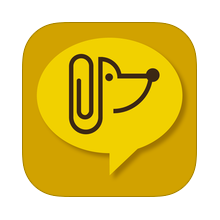 Today I will review an App that all pet lovers and owners should have on their phones. The App basically stores all your pet vaccination records in one space. The App sends you notifications of appointment reminders as well. So let us take a look at the features, the pros and cons, what others have said, and how you use the App. PensterDocs was designed and built by Penelope, who was inspired by her beautiful border collie/Labrador mix.
You can store all you pet records, including pet visits, grooming appointments and feeding schedules.
It is easy to access and share all these documents as well. This helps you send them to your insurance, friends etc.
You do not even have to be connected to the internet. You can access all the records offline.
PensterDocs allows you to set reminders for appointments and vaccination due dates. The App will send you push notifications so you will never miss another appointment.
The App has a built in navigation system that will locate all the vets, kennels, groomers and dog parks making it easy for you to find the stores in your location.
When you are on vacation you can use this feature in case of an emergency.
Use the built in call button to quickly dial your veterinarian or any other pet service.
Check out a list of animal rescue services.
Browse through the feed on your home page to see cute pet pictures and get pet advice.
Review
I think this app is completely amazing. I am a pet owner myself. I own two dogs and a jardine parrot. The app has made my life so much easier. I get reminded by my phone of all appointments so that I do not miss any. I do not have to worry about loose papers and invoices anymore. I send my insurance papers to the insurance company through my phone while I am at the vet so that I do not forget. The app as a host of features that will suit all your pet needs. It has recently been redone and the user interface is very pleasing on the eye. It also has a cool new feature that allows you to share your pets profile and pictures with the rest of the PensterDocs community.
[huge_it_slider id="109″]
Users Experience with PensterDocs
The majority of users are pleased and happy with this app. They have said the following; "I really like this app. It lets you put in all your pet info in an easy-to-use interface. Thanks for making pet record keeping easy!", and "This app is so handy! I am always moving and changing vets. Now I don't have to have my old vet fax my new one. I also really like the location services that it provides."
How to use the app?
My favourite feature is that the app is very user friendly. You can download the app here;
Then you can just set up an account with your details, upload your documents and there you have it. All your records in one place that you can access anywhere, anytime, even if you are offline.