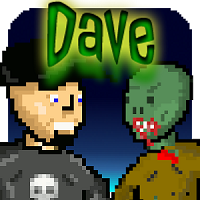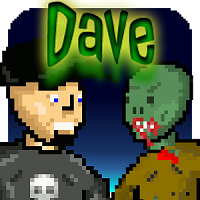 The world is still getting excited by 16-Bit pixel retro style games. Here comes another interesting game of this genre, Dave against the evil forces for Android which is developed by Mr. Purple. The game is completely packed with action and exciting play ups. There are around 25 levels with different targets and is a single player game.
The characters and playing methods
The two main characters are Mel and Dave in this game. In each level, the player has to collect a green potion to get three stars at the end. If the player gets the three stars and rescues Mel, then the level is finished. There are points for each item that is taken in a level and finally defeating the enemy accumulates lots of stars which help the player win. The keys used are just the right, left, up and down keys and the jump key is the main thing for this game.
Features of the game
The game is featured very easily and has minimal characters so does not create any confusion while playing. The game has 2 players from which one can be chosen to play and about 8-9 evil forms that have to be defeated. This game is based on a jump and run style and has awesome graphics. If the game is played in the two players' mode, there are three extra levels where 3 evil bosses should be defeated. The levels are all action packed and allows the player to choose his/her weapon from three different weapons provided in the game.
[huge_it_slider id="42″]
Dave is a good action game and has satisfied a wide range of gamers. Graphics and the other specifications of the game is mind blowing. The main feature that attracts a player is that the game is not slow and doesn't take much time to clear the levels. The levels and the goals to complete them are easy and exciting. The playing options are also not very difficult and do not need any special concentration.
Ultimately Dave is a super hero, fighting the evil force and taking the players through a set of levels to earn points and stars. This game is very exciting, the levels have good graphics, and very addictive.