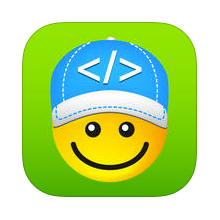 The world is going digital and so is every sector. Education among kids is equally taking the same dimension, and teaching systems are getting modified and provided into the form of apps. Junior Coder is one of the educational apps that are being used by kids today. I tried out this app and here is my review about it.
Junior Coder is a new exciting game that introduces kids to the basics of computer programming. Junior Coder uses puzzles and games to teach the concepts of computer science. By the end of each Junior Coder game, kids would have learned how to challenge their friends or themselves by creating their own puzzles.
As the saying goes, "experience is the best teacher." Junior Coders simplifies computer science and makes it easy for kids to learn the important topic. Each computer programming unit is introduced as a unique, simplified and fun game. Kids play up to five levels before they grasp the whole idea. They later challenge themselves by creating similar puzzles.
Creating their own puzzles helps them to put into practice what they've learned and thus, reinforces what they've learned. Games that teach sequencing and algorithmic thinking are available for free. Other games are availed with the in – app purchase.
[huge_it_slider id="98″]
Junior Coder Features
Junior Coder features are grouped into two; those offered for free and ones that are only present on purchased apps. Sequencing skill and Algorithmic thinking features are offered for free. Additional features, which are only present in the in – app purchase includes:
Efficient programming
Debugging and problem solving
Procedural and functional thinking
Looping and repetition
Patterns recondition
When combined, these features work so perfect. Rumors have it that newer and better features have been introduced in latest versions.
Pros
The app is ideal for 7+ kids and is targeted at advancing their educational skills. The good thing is that it is easy to use and anyone who loves challenges and can read is able to play. Games are arranged in a user friendly way, such that its starts from simple sequential thinking and moves to complicated basics of functions, conditional flows, looping and optimal solutions.
It has a stellar award chart, which motivates kids and keeps track of the progress. Kids earn medals and badges after they've completed each game. The app is great for Hour of Code and is appropriate for classroom supplement.
Cons
The app demands that you own a Smartphone for you to download & install, procedures which are at times tiresome. Besides, if you don't procure the app you're denied access to important features like procedural & functional thinking, looping & repetition and patterns recondition.
Final Verdict
With little cons that pros, you should surely try out the Junior Coder app and see if it will work for you. Once you pay for, download and install the app into your Smartphone, you'll enjoy how it functions. I tried it out and I believe that it is effective and will help my seven years old son to learn more about computer programming. Hurry! get your app soon.