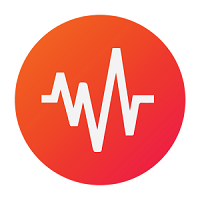 No matter what the age is one must never let the inner child die. Everyone has played pranks in their time. No matter how annoying pranks can be but still spreading joy and laughter is the major motto. Hertzier is an Android app from BloopStudios that not only rejuvenates that prank master in you but also helps you to shoo off deadly biting mosquitoes and dogs. High frequency sound is the source behind these achievements. The app generates many high frequency sounds that posses the power to irritate anybody and thus help you to play your cool pranks easily. Your mobile is always with you and hence your prank generator so no matter what and when your mind gets a bit mischievous you can play the pranks hands on with your friend, family or anyone else.
The app offers multiple high frequencies to choose from the pulse category and all of them are created to bring in some new annoying sounds to drive your friends insane. You can be the party's most creative prank man or your class's most innovative mischievous one with this app stored in your device. All this was just a teaser for the app as it also has a hearing test which helps one to find how good and healthy the ear hearing capacity is. With all this fun the app also repels mosquitoes and dogs easily as they feel irritated by the high frequency sounds. The dog teaser uses high frequency sounds, which is a replica of the amazing dog whistle. The best part is that it causes no harm to the animal.
[huge_it_slider id="44″]
The interface is dead easy and cool. You can adjust the power control to change the intensity by just a swipe of your fingers. Hertzier can play sounds ranging from 200Hz to 8kHz hence giving an option of both low and high frequency sounds. The app must be used with caution as the high frequencies may cause permanent damage to the hearing capacity. The app gives a check to your hearing capacity and has an intuitive interface that keeps you attracted all together, the application is surely worthy of your device's space. Play pranks and spread joy everyone.