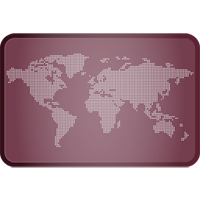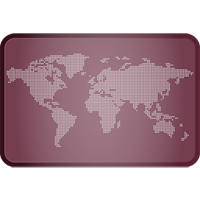 Once upon a time, when I was a kid, I had the habit of collecting stamps of various countries of the world. In about a month time, I was able to locate almost 99% of countries in world map. Now as a adult, I do not even remember state names of my own country! I hope most of you agree with me.
And here comes a new and thrilling way to learn geography! geographiQ is an app from AppForMore AB, that enables you to learn geography quickly just through your Android device. It's fun! whether you are a beginner or a professional want to sharpen your knowledge, geographiQ will accommodate you! To improve user experience, the app has been designed as an easy game to play. Through playing, you can significantly improve your IQ about the world.
The app has all the six continents in its interface; this makes it universal, as it is applicable to any part of the world. It has further been equipped with capital cities, states and provinces of select countries. This means that you get to know all the major cities in the world by only using this app. You can test your skills in a game of the US states, South American countries, African countries or even cities in Asia. If you are tough, you can select a foreign country and test your skills like the state capitals of Brazil, prefectures of Japan or even the counties of England.
Also, to make the play more enjoyable, it has all flags of countries all over the world! You will never be confused about world cup teams and flags if you use this app. You will have unlimited fun!
geographiQ provides close to 50 different games just in one interface. To pick one of the four different answers, you simply look at the highlighted area on the map and select the correct answer. The game has a faster response of processing the answer, because the app totally works offline. geographiQ app has a 50/50 button which helps you to move one step closer to the correct answer.  Click this button to make two incorrect answers to disappear. Initially you have given 10 free click to the button. Once it will expire the app ask to purchase 50 click with ad removal for Rs. 120 (USD 2). If you purchase, the app becomes pro version. After the usage of 50 clicks, you can refill again for Rs. 60 (USD 1). These are the optional in-app purchases. The app is always free, just you cannot eliminate two incorrect answers.
In case you didn't get the correct answers for a quiz, geographiQ gives you two options: you can choose to return home or to play again! You can try again & again till you get all answers right. The answers are displayed in summary using red and green color. The results are also shown on the maps.
[huge_it_slider id="21″]
Navigating through the app is very simple; it has a left-hand side menu. This enables you to do various things. You can seek help, connect to the developers through Facebook, Twitter, Youtube or even send them a direct email. The settings button is also available on the menu. This app is suitable for all people who want to learn geography; it can be used in schools. You can also use the app for adventure or when you choose to travel to new places!
Start enjoying the game now with a maximum of two clicks after downloading it from the play store.