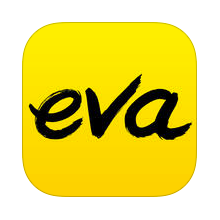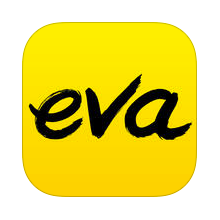 Eva, a new social media app with great potential is something you should use straight away. The app's main focus is on recording short videos and adding them to your personalised feed for the world to see. Facing competition from the likes of Snapchat, apps like Eva have faded to obscurity but Eva feels like it's here to stay. With an already steady flow of users and developers presence on the app, why wouldn't you join the next wave of video sharing?
With my experience, I downloaded it on my phone and straight away found myself digging deep into the app. I was struck by the lack of sign up request – a nice change – and how professional it looks with the black, white and yellow colour scheme.
What caught my surprise was the quality of videos already on when first downloading the app, with "channels" featuring content for you to look at. The design of watching the clips whether on a channel or public is really nice, with the video being the main focus with detail down on the bottom. I really like the way the team at Eva have not used timing, but instead a circle including the face of the uploader and dots that run along. Inclusion of more channels would be nice to see, just to help it feel more like a community using the app rather than individual uploads.
Obviously the app still has work done to it, as I've found that loading the feed takes longer than I thought it would. It's understandable why, but to see the friends, my feed and favourites, you must sign up for an account. It does make me appreciate them not asking straight away, but why have features when on the actual app that you need an account for?
[huge_it_slider id="104″]
The swiping left and mostly right to get back certain clips or headings isn't unique, so maybe in the future an overhaul of that could make it more appealing and not like others on the market. If you look on the official iTunes page for the eva app, all reviews for the app have been 5 stars and I have to agree with them.
Though I was sceptical of the app and it's potential, having used it and seen how easy it is to use, I can see it exploding very soon to be the next big social media platform. Unlike Snapchat, arguably the biggest video platform on the App Store, you have all of your saved videos in one place, and more importantly, not taking up crucial space on your phone. They stay on your account alongside your favourites, which you can't do on Snapchat. While Snapchat is trying to appeal with adding filters, Eva feels more of the grown up equivalent, in it's simplistic style and no gimmicks. Even if you don't use the app, listen to me and the other reviews on iTunes and give it a go, and you will see the birth of the next big social media platform before your eyes.